Society For Biomaterials Announces its 2022 Award Recipients

Society For Biomaterials Announces its 2022 Award Recipients
SFB's prestigious industry awards recognize outstanding achievements in and contributions to the biomaterials field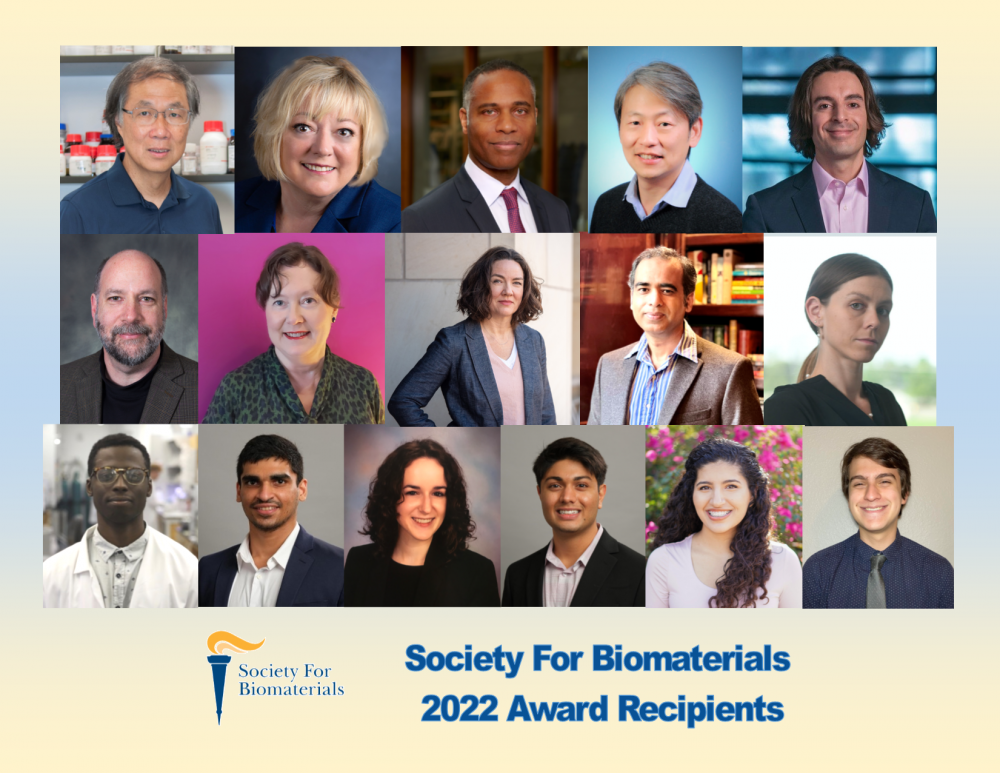 January 24, 2022 — The Society For Biomaterials (SFB), a multidisciplinary society of academic, healthcare, governmental and business professionals dedicated to promoting advancements in all aspects of biomaterials science, education and professional standards to enhance human health and quality of life, recently announced its slate of 2022 award recipients.
SFB's members include professionals who have experience in numerous sectors of the biomaterials field, ranging from clinicians and researchers to medical device manufacturers and students studying biomaterials.
One of the defining aspects of SFB is its commitment to bridging the gap between academic research and its application within an industry setting to advance the biomaterials field and lead to innovations in research, patient care and policy.
SFB is proud to present the following awards:
Founders Award
This is awarded to an individual who has made a long-term, landmark contribution to the biomaterials discipline.
Kam Leong, PhD, Columbia University
Fellow SFB member, Arthur J. Coury, PhD, shared, "Kam is one of the significant leaders of our field of Biomaterials, making seminal contributions to the development of biodegradable polymers for drug and gene delivery and regenerative medicine, educating a large number of biomaterials researchers with his mentorship, and servicing the biomaterials community with his editorship of the top journal in the field. His ongoing support of many government, academic and industrial organizations, makes him a leading emissary for advancement of our Biomaterials field for the benefit of Society, worldwide."
Society For Biomaterials Award for Service
This award honors significant service to the Society For Biomaterials in establishing, developing, maintaining and promoting its objectives and goals.
Elaine Duncan, Paladin Medical, Inc.
"Elaine's contributions to the SFB have been as an individual AND as a corporate entity through her company, Paladin Medical, so Elaine is unique in the respect that she has been a champion of the objectives and goals of the Society For Biomaterials, both as an individual and as a corporate entity" wrote nominator, John (Jack) L. Ricci, PhD. Also stating, that Elaine is "a passionate and bold advocate for all that the Society For Biomaterials stands for."
Technology Innovation and Development Award
This award recognizes an individual's (or a team's) successful application of basic and applied biomaterials research in the development of a novel medical product or technology that significantly benefits the health and well-being of medical and surgical patients.
"His research group at Northwestern University was the first to describe the synthesis of bioresorbable biomaterials that are based on citric acid. These biomaterials are used for 3D printing medical devices such as stents, drug and protein delivery, and the regeneration several tissues including blood vessels, cartilage, bone, bladder, and skin." wrote Robert S. Langer, Sc.D. "Dr. Ameer has co-authored numerous publications in high impact journals, book chapters, patents, and conference proceedings and has received several awards for his research."  His research and patents are the foundation for the Citregen biomaterial technology, which has been further expanded by Jian Yang, PhD (Penn State University) and Richard T. Tran, PhD (Acuitive Technologies, Inc). Citregen is now used in implantable medical devices for musculoskeletal surgery through a proprietary manufacturing process developed by Acuitive Technologies and commercialized by Stryker Corporation.
"… I am very impressed by SURGICEL® Powder performance, the product that Allen and the ETHICON team developed, and by Allen's ability and persistence as a technology and solution-driven technical lead in developing, driving and delivering SURGICEL® Powder to the market. During the early development stage, Allen worked with surgeons and his team to identify the unmet needs and to scope out the target product profile for SURGICEL® Powder. He further optimized the performance of powder prototypes by changing its structure and interaction with blood. He collaborated with the device team on the concept of an ease-of-use delivery applicator. This has led to the development of combined product of SURGICEL® Powder with its delivery device (SURGICEL® Powder Applicator), which allows to achieve complete and sustained hemostasis when used as an adjunctive topical hemostat, resulting in better clinical outcomes," wrote Richard Kocharian, MD, PhD, Senior Franchise Medical Director, Biosurgery & Wound Closure, Ethicon, Inc., a Johnson & Johnson company.
Clemson Award for Applied Research
This is awarded to an individual whose accomplishments include significant utilization or application of basic knowledge in science to achieve a specific goal in the field of biomaterials.
David Kohn, PhD, University of Michigan
Nominator Paul Ducheyne, PhD, shares, "David's fundamentally thorough approach to applied questions can be found in his tissue engineering work. A limitation in translating tissue engineering to the clinic (an applied question) is the` inability to reproducibly synthesize a significant volume of tissue. He tackles this issue fundamentally: to better control cells' response to biomaterials, he mimicked aspects of nature's biomineralization strategies as a basis for biomaterials design."
Clemson Award for Basic Research
This is awarded to an individual who has made an original contribution to the basic knowledge and understanding of the interaction between materials and tissue.
Julia Babensee, PhD, Georgia Institute of Technology and Emory University
"Dr. Babensee is a pioneer in the field of immunology of biomaterials. She was one of the first researchers to recognize, define, and tackle problems in this field of biomaterials immunoengineering and is internationally recognized for her leadership," wrote James M. Anderson. MD, PhD. "Dr. Babensee's outstanding contributions have significantly advanced thinking about how biomaterials can influence key cells of the immune cells and design strategies using biomaterials for immunomodulation."
Clemson Award for Contributions to the Literature
This is awarded to an individual who has made a significant contribution to the literature on the science or technology of biomaterials.
Laura Suggs, PhD, The University of Texas at Austin
"Laura's first broad impact on the biomaterials community was with her work designing and applying poly(ethylene glycol) (PEG) modified fibrin gels for a variety of applications. These materials, often referred to as PEGylated fibrin, provided a ready means to manipulate fibrin gel mechanical properties as well as to covalently link active biomolecules into the fibrin scaffold. Laura established herself as the leading researcher in this field and she contributed both excellent scholarship and innovation with her many publications on this topic," wrote William R. Wagner, PhD.
Mid-Career Award
This award recognizes an individual SFB member who has demonstrated outstanding achievements in and/or contributions to the field of biomaterials research.
"Dr. Brown has established a strong reputation for her research program, as evidenced by both her outstanding extramural support record and her remarkable publication record. Dr. Brown's research spans both translational and fundamental efforts and draws from multiple scientific disciplines to develop creative and effective solutions to both address critical clinical needs and to elucidate novel fundamental biological mechanisms," wrote nominator Christopher A. Siedlecki, PhD. "Altogether, more than 10 million people suffer from conditions addressed by Dr. Brown's research program, with more than $100 billion in health care costs spent on these problems. It's clear that Dr. Brown's work has the potential to dramatically improve healthcare worldwide.
"Professor Singh is an exceptional mid-career stage investigator engaged in basic biomedical research, whose research program can significantly advance the understanding, diagnosis, or treatment of cancer and immune diseases," wrote nominator Kam W. Leong, PhD. "Professor Singh has combined synthetic and natural hydrogels with multi-dimensional nanoengineering to generate ex vivo immune tissues. There are few biomaterials researchers or biomedical engineers in the world who can match the creativity of Ankur in the areas of immune-biomaterials and immune-engineering."
Young Investigators Award
This award recognizes an individual who has demonstrated outstanding achievements in the field of biomaterials research.
Michael J. Mitchell, PhD, University of Pennsylvania
"Mike has employed this biomaterials platform to identify drug carriers that induce targeted delivery of genes to the bone marrow microenvironment. Using these carriers, Mike developed the first nanoparticle RNAi therapy to treat multiple myeloma, an incurable hematologic cancer that colonizes in bone marrow. Before this, no one in the drug delivery field has developed an effective gene delivery system to target bone marrow," wrote Robert S. Langer, ScD. "Mike is a standout young investigator and leader that intimately understands the importance of research and collaboration at the interface of nanotechnology and medicine."
Student Awards for Outstanding Research
This is awarded to undergraduate, graduate and/or PhD students who have shown outstanding achievement in biomaterials research.
Recipients in the PhD Candidate Category:
o          Henry Beaman, Syracuse University
o          Anujan Ramesh, University of Massachusetts Amherst
Recipient in the Masters Candidate Category:
 o         Natalie Petryk, Syracuse University
C. William Hall Scholarship
This award honors the memory of the Society's first president, Dr. C. William Hall. This student scholarship is awarded to a junior or senior undergraduate pursuing a bachelor's degree in bioengineering or a related discipline.
Savan Patel, University of Pennsylvania
Cato T. Laurencin Travel Fellowship
Named in honor of a distinguished member of the Society For Biomaterials, Cato T. Laurencin, MD, PhD, the travel fellowship will support undergraduate students who are disproportionally underrepresented in the fields of Science, Technology, Engineering, and Math (STEM).
o          Andres J. Miramontes, The University of Texas at Dallas
o          Briana Cristal Martin-Villa, Stanford University
About the Society for Biomaterials
The Society for Biomaterials is a professional society that promotes advances in biomedical materials research and development by encouragement of cooperative educational programs, clinical applications, and professional standards in the biomaterials field. Biomaterials scientists and engineers study cells, their components, complex tissues and organs and their interactions with natural and synthetic materials and implanted prosthetic devices, as well as develop and characterize the materials used to measure, restore, and improve physiologic function, and enhance survival and quality of life. For more information, please visit www.biomaterials.org.