Cardiovascular Biomaterials SIG Quarterly Newsletter
Society For Biomaterials - Cardiovascular Biomaterials SIG Newsletter [Spring 2023]

Welcome to our Spring Quarterly Newsletter! We encourage our Cardiovascular Biomaterials SIG members to attend the upcoming Society for Biomaterials annual meeting in San Diego (April 19-22). Registration is still open!  Please support your fellow SIG members by attending our SIG-sponsored sessions:
Cardiovascular Biomaterials SIG
Cardiovascular Biomaterials SIG Rapid Fire
Additionally, we will be holding our virtual SIG meeting on Thurs May 4th at 12:30-1:30pm PDT (3:30-4:30pm EST). Please mark your calendars so that we can discuss SIG leadership nominations as well as initiate planning for the 2024 meeting. https://stanford.zoom.us/j/97681992445?pwd=Wm9abzBtVUdDVFlrMkVhMTE3VE1Qdz09 Dial: +1 650 724 9799          Meeting ID: 976 8199 2445 Password: 602934
Finally, SFB is soliciting officer nominations for our SIG.  To nominate yourself or a colleague, please complete the following form, including a brief biography and a paragraph on your vision for the SIG: Submit Your Nomination HERE!  Don't miss out on this great leadership opportunity within the Society! The deadline for SIG Officer Nominations is Monday, May 1, 2023. 
SIG Member: Industry Spotlight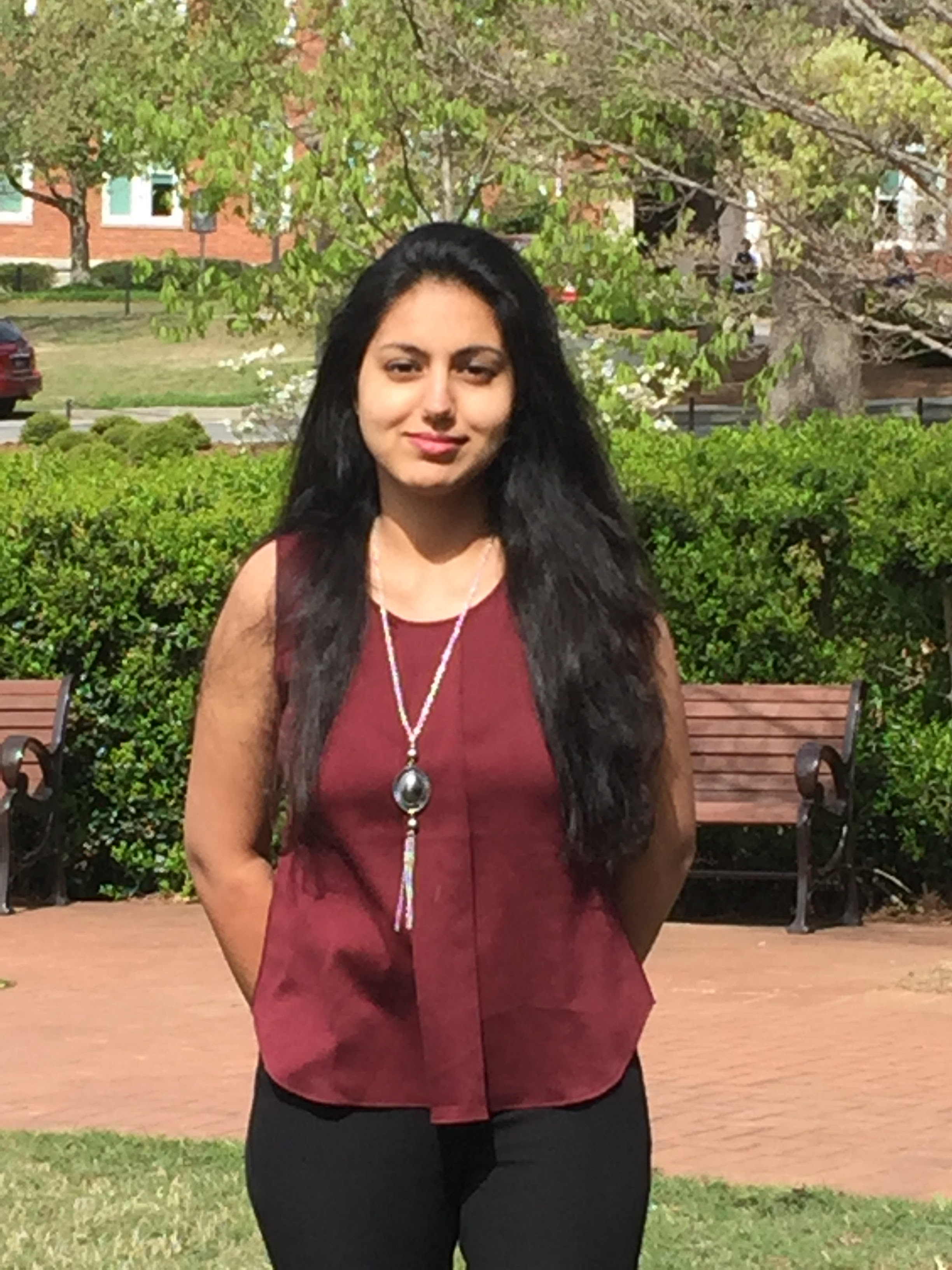 Head Scientist - Quality Assurance and Product Development, Gravertech
Spotlight on Dr. Astha Khanna, PhD!
Gravertech provides a wide range of healthcare processes and products. How does your role fit into such a diverse portfolio?
I'm leading the regulatory affairs, quality and product development divisions in the organization. I lead a team of scientists and regulatory associates for development and quality. My role is critical for key strategy decisions involved in all aspects of regulatory and development. Being responsible for a diverse range of healthcare and portfolio is challenging as well as rewarding in terms of managing different divisions and products that are of relevance and importance to industry. I work with multidisciplinary teams on different programs for collaborative input on all project deliverables and successful development of the organization's wide product portfolio.
Your dissertation focused on human serum albumin films for neointimal hyperplasia. Take us through your journey from conducting this research to serving as the Head Scientist for Product Development and Quality Assurance at a large company.  
My doctoral dissertation on designing biocompatible coatings for medical devices was an excellent experience for me to understand the intricate concepts in bioengineering. The experience led me to unravel scientific inventions and publish several journal publications that paved the way for an exciting career in industry leading product development and quality assurance. I enjoy working and leading teams on different aspects of research development and compliance to GMP/GLP. Having such a rich research experience by virtue of my doctoral research, managing and working with industry partners on a diverse product portfolio is highly rewarding as my scientific expertise is instrumental in key strategy decisions for successful product development.
Your biography mentions the importance of interdisciplinary research. How does this come into play as an industry R&D leader; in what ways is it similar and different to academia?
We are so multidisciplinary in all aspects of our work from development to compliance. As a product development lead, I work with different divisions such as development, manufacturing quality assurance and compliance to ensure products are developed using a thorough process using scientific evidence and regulatory compliance. While the process is similar to research and development in academia, the product portfolio in industry is large and hence it involves several factors specific to each product that requires optimization of protocols accordingly.
Where do you see the biotech industry in the next 10 years?
The biotech industry is on the way to revolutionize in the next 10 years with several advancements taking place in areas such as bispecific antibodies, vaccines and biologics as potential therapies to cure cancer, metabolic diseases and dysfunction. This is a great time to be involved in biotech research as new advancements are taking place in different therapeutic areas that will change the therapeutic realm of advancements for potential novel treatments and therapies for life-threatening diseases with unmet clinical need.
What lessons from your academic training have helped you excel in industry?
There are several learnings from academia that have helped me in excel in industry such as the basis of scientific research that we learn in our research labs, good lab practices and generation of statistically relevant data for research hypotheses. Academia is the foundation for all industry research from basic scientific concepts to sophisticated lab techniques required for a successful research project in industry. We thrive in industry and are respected for our strong scientific background that really gives us an edge in various industry disciplines from development to quality. I have learnt skills from mentors and professors that are so valuable for translation of research in industry and I hope to pass on those skills to newer generations for future advancements that can revolutionize the world.
News from Our SIG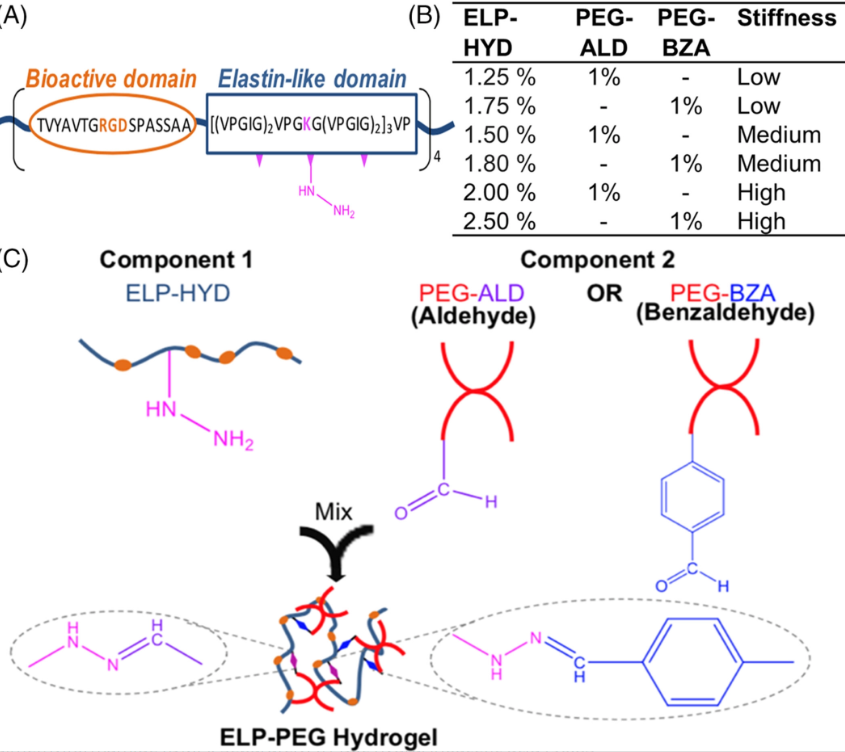 Source: Shayan et al., J Biomed Mater Res A. 2023 Mar 2.
New Publication: "Elastin-like protein hydrogels with controllable stress relaxation rate and stiffness modulate endothelial cell function" in J Biomed Mater Res A (2023) by Shayan et al. (Click here to read!)
Dr. Huang and colleagues formulate fast-relaxing or slow-relaxing hydrogels with a range of stiffness and examine the response of endothelial cell spreading, proliferation, vascular sprouting, and vascularization.
Dr. Chris Bashur recently published an article in Biomaterials Advances that shows important differences in vascular graft patency after 10 months in a rodent model that is typically not seen with shorter grafting times when grafts are fabricated from biocompatible materials. This model was used to investigate the impact of low-ratio collagen blends and peritoneal cavity pre-implantation on electrospun graft remodeling and presence of inflammatory cells. Please read about it here.
Veterans Affairs Research Career Scientist Award to Dr. Ngan Huang: Dr. Ngan Huang receives Veterans Affairs Research Career Scientist award to fund her research in peripheral arterial disease and traumatic muscle injury. Read more information here.
Dr. Yi Hong and Dr. Feng Zhao Elected As Fellows of AIMBE: SIG members Yi Hong and Feng Zhao were elected as 2023 fellows of the American Institute for Medical and Biological Engineering (AIMBE)
First Place to Suh Hee Cook in Graduate Research Symposium: Suh Hee Cook, PhD candidate in Dr. Jessica Gluck's lab at NC State, won first place in Engineering in a poster competition of 182 students from across all colleges at the university for her project "In Vitro Stimulation-Conduction Platforms to Mature Induced Pluripotent Stem Cell-Derived Cardiomyocytes."
Help Wanted!
Seeking speakers for NCSU's Virtual Tissue Engineering Seminar. Please email Dr. Jessica Gluck at jmgluck@ncsu.edu if interested.
Submit your news for the upcoming SIG newsletter here! News can include publications, fellowships, job postings, events, conferences, calls for abstracts, calls for collaboration, awards, or anything exciting going on in your lab/institution/etc. 
From your Cardiovascular Biomaterials SIG Leadership,
Ngan F. Huang, Chair (ngantina@stanford.edu)
LaShan Simpson, Vice Chair (clsimpson@abe.msstate.edu)
Chris Bashur, Secretary/Treasurer (cbashur@fit.edu)
Yi Hong, Program Chair (yihong@uta.edu)
Newsletter designed by Suh Hee Cook