SFB @ MS&T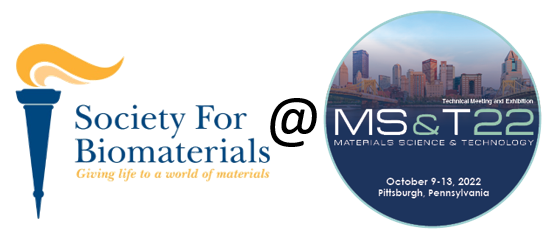 The Society For Biomaterials recently participated in the Materials Science and Technology Meeting for the first time as a co-sponsoring society. The meeting was held in Pittsburgh, PA, October 9-12, 2022.  As part of our involvement, SFB sponsored a Student Poster Contest + Rapid Fire symposium to encourage undergraduate and graduate students to present their research experiences and improve their communication skills. The participants gave a 5-minute rapid-fire oral presentation and presented their work at the symposium's poster session. We would like to congratulate this year's awardees, who include:
2022 Graduate Student Poster Award Winners:
"Polymerized High Internal Phase Emulsions Derived from Photocurable Polycaprolactone for Tissue Engineering Applications" by Sierra Kucko, Timothy Keenan
"Villi Inspired Elastomeric Interlocking Device for Intestinal Retentive Applications" by Durva Naik
"Decanoic anhydride-modified chitosan membranes loaded with bupivacaine and cis-2-decanoic acid affect cytokine expression of keratinocytes" by Emily Montgomery, Zoe Harrison, J. Amber Jennings
2022 Undergraduate Student Poster Award Winner:
"Blood Coagulation Response to Four Medical Grade Polyurethanes Biomaterials" by Lan Nguyen, Li-Chong Xu, Christopher Siedlecki
 
SFB would also like to extend special thanks to the volunteers on the SFB/MS&T Program Subcommittee who helped bring this to fruition: Roger Narayan (Chair), Guillermo Ameer, Danielle Benoit, Jeff Capadona, Thomas Dziubla, Jordon Gilmore, Bob Hastings, Jessica Amber Jennings, Lynne Jones, SuPing Lyu, Chris Siedlecki and Carl Simon.