WBC 2024 FINAL EXTENSION!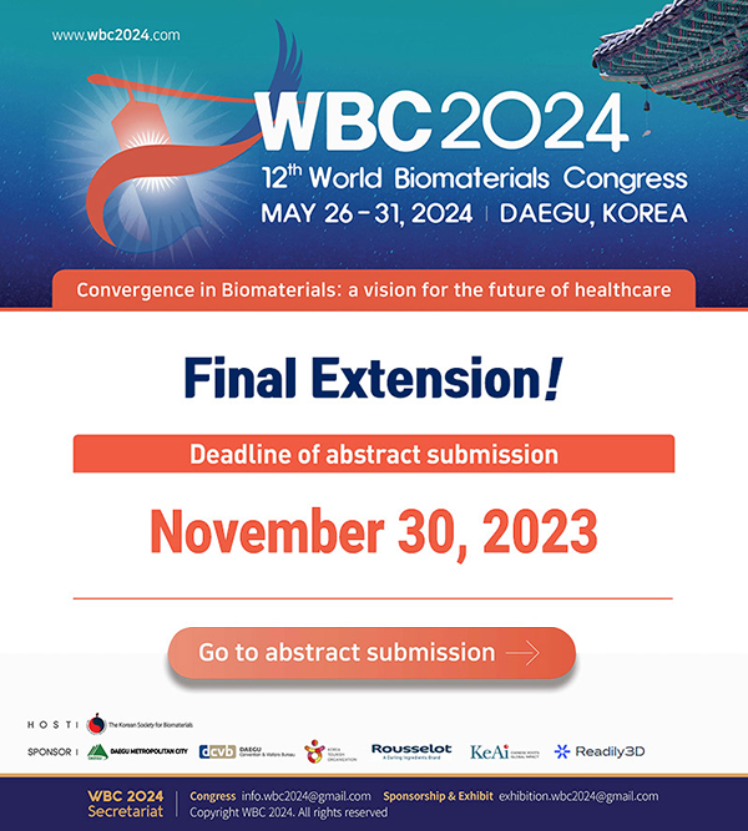 The abstract submission deadline has been extended to November 30th, giving you one last chance to be part of this prestigious event. WBC 2024 is set to be a game-changing experience for all researchers and professionals in the field of biomaterials. This exceptional event will take place in the vibrant city of Daegu, South Korea, from May 26 to 31, 2024. It promises to be a unique platform for networking, knowledge sharing, and collaboration with experts and peers from around the world.
We strongly encourage all Society For Biomaterials members to submit an abstract of their groundbreaking research for consideration at WBC 2024. This is an exceptional opportunity to showcase your work, gain exposure, and contribute to the advancement of biomaterials science and technology.
The extended abstract submission deadline is fast approaching, so don't miss out on this opportunity. You can submit your abstract by visiting the official WBC 2024 website: https://wbc2024.com/
Here are some key benefits of participating in WBC 2024:
Global Visibility: Share your research on an international stage and gain recognition from your peers and industry leaders.
Networking: Connect with experts, fellow researchers, and professionals in the biomaterials field, opening doors to collaboration and knowledge exchange.
Cutting-Edge Insights: Gain access to the latest developments, breakthroughs, and innovations in biomaterials research through engaging presentations, workshops, and sessions.
Cultural Experience: Immerse yourself in the rich culture and history of Daegu, Korea, making this event not only professionally enriching but also personally rewarding.
Career Advancement: Enhance your professional portfolio and build valuable relationships that can contribute to your career development.
Remember, the final deadline for abstract submission is November 30th, so act now to secure your spot at WBC 2024 and be part of this global biomaterials community.
For more information about the congress, registration details, and other important updates, please visit the official WBC 2024 website at https://wbc2024.com/