Guillermo Ameer Wins BMES Athanasiou Medal of Excellence in Translational Bioengineering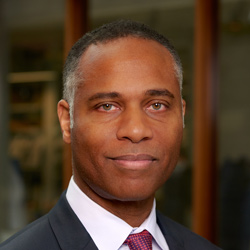 Oct 11, 2023 // Brian Sandalow
Northwestern Engineering's Guillermo A. Ameer has been named the inaugural winner of the Biomedical Engineering Society (BMES) Athanasiou Medal of Excellence in Translational Bioengineering. 
The medal recognizes the achievements of an individual who has made outstanding contributions to the field of biomedical engineering with a particular focus on translation. Achievements include significant research contributions in translational bioengineering and/or development of new products in biomedical engineering.
Ameer will give the lecture "Pro-regenerative Biomaterials and Medical Devices: Enabling Clinical Regenerative Medicine" on October 13 at the BMES annual meeting in Seattle. 
Ameer is the Daniel Hale Williams Professor of Biomedical Engineering at the McCormick School of Engineering and professor of surgery at the Feinberg School of Medicine. He is a leader in regenerative engineering, biomaterials, additive manufacturing for biomedical devices, controlled drug delivery, and bio/nanotechnology for therapeutics and diagnostics.
Ameer pioneered the development and tissue regeneration applications of citrate-based biomaterials, which are the core technology behind the innovative bioresorbable orthopedic tissue fixation devices CITRELOCK, CITREFIX, CITRESPLINE, CITRELOCK ACL, and CITRELOCK DUO. All of these devices have been cleared by the FDA for clinical use in musculoskeletal surgeries. The CITRELOCK tendon fixation device and CITREFIX suture anchor launched in 2021 and 2022, respectively, are marketed worldwide by Stryker Corporation's foot and ankle business. CITRELOCK ACL and CITRELOCK DUO are intended for sports medicine applications. The first use of CITRELOCK ACL in a knee reconstruction surgery was announced in June 2023. CITRELOCK DUO is a fixation device for biceps tenodesis (biceps tendon tears caused by injury or overuse).
Ameer also directs Northwestern's Center for Advanced Regenerative Engineering (CARE), an interdisciplinary research center that integrates and supports research, education, technology development, and clinical expertise to improve the outcome of tissue and organ repair and regeneration for adult and pediatric patients. He is also the director of the Regenerative Engineering Training Program, an NIH-funded predoctoral training program that integrates team mentoring, convergence research, industrial experiential learning, and clinical experiential learning.
Recent recognition of Ameer's accomplishments includes his induction into the American Academy of Arts and Sciences, the 2023 Excellence in Biomaterials Science Award by the Surfaces in Biomaterials Foundation, and the 2023 Leadership Professional Impact Award by the American Institute of Medical and Biological Engineering.
BMES is the professional society for students, faculty, researchers, and industry professionals in biomedical engineering. Its mission to promote a collaborative and inclusive community to advance human health through education, discovery, and translation drives its research and educational initiatives.
View the original press release here.