Current and Future Applications of 3D Printing in Orthodontics, Restorative, and Regenerative Dentistry
The Society For Biomaterials hosted a webinar on Wednesday, July 29, 2020, sponsored by the Dental/Craniofacial Biomaterials SIG.  The first portion of the webinar highlighted applications of digital workflows and 3D printing in orthodontics and focused on clear aligner therapy. The second part of this webinar covered emerging applications of 3D printing in restorative dentistry (including indirect and ceramic crown and bridge materials) and various aspects of the field of 3D bioprinting and regenerative dentistry.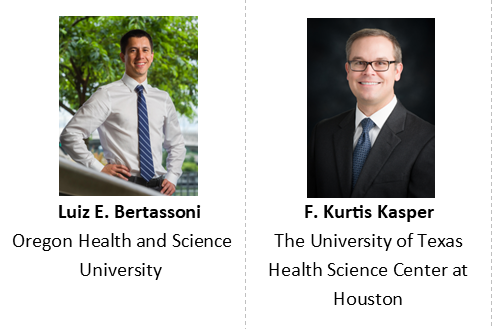 About the Presenters:
Dr. Kurt Kasper currently holds an appointment as Associate Professor in the Department of Orthodontics at The University of Texas Health Science Center at Houston. His research applies fundamentals of engineering, materials science, and the biosciences toward the development and evaluation of biomaterial-based technologies to meet clinical needs. Dr. Kasper has enjoyed membership in the Society For Biomaterials (SFB) for over 15 years, receiving the Young Investigator Award in 2013. He presently serves as Chair of the Dental/Craniofacial Biomaterials SIG in the SFB.
Dr. Luiz E. Bertassoni is currently an Associate Professor at Oregon Health & Science University. He also holds appointments at the department of restorative dentistry, the OHSU Center for Regenerative Medicine, the Department of Biomedical Engineering and the Cancer Early Detection Advanced Research center (CEDAR) at the Knight Cancer Institute. Dr. Bertassoni leads a multidisciplinary research group working on various aspects of biomaterials and tissue engineering. His work has encompassed various aspects of micro-scale technologies and bioprinting for tissue regeneration; nanoscale structural and mechanical properties of mineralized tissues; and different aspects in the field of 'organs-on-a-chip'.