Sharklet: A Critical Technology in a Pandemic
Start and End Times
12:00 PM UTC - 1:00 PM UTC
The Society For Biomaterials hosted a webinar on Wednesday, June 17, 2020. Anthony Brennan discussed Sharklet: A Critical Technology in a pandemic. The pandemic that has literally stopped the world in its tracks pushes everyone to seek new strategies to attenuate the spread of the disease. The SARS-CoV-2 virus is known to exist for extended periods of time on surfaces that are another vector for its transmission to hosts. Sharklet is a bio-inspired microtopography that has been demonstrated effective at inhibiting the attachment, growth, migration, and transference from surfaces. The Sharklet design was inspired by investigations of marine biofouling of ships that led to the evaluation of the structure of sharkskin as a surface that remained free of biofouling in the harshest environments. The roughness of the sharkskin denticles, tooth-like structures, was integrated into an empirical model for anti-wetting behavior. These models led to the evaluation of numerous organisms from the marine environment and the human being. This presentation will take a historical tour of the development process, the biological data, and the current state of the art in terms of medical devices and surface protection during this pandemic and beyond. The evaluation of performance is difficult for this technology that is non-toxic and non-releasing. Newly developed test methodologies will also be described to reveal new approaches.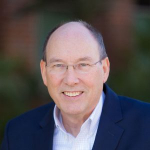 About the Presenter:
Anthony B. Brennan retired, on August 15, 2019, from the University of Florida as the Margaret A. Ross Professor of Materials Science & Engineering and a University of Florida Research Foundation Professor. Dr. Brennan received a BA degree in Chemistry from Potsdam College, an MS degree in Chemistry from R.I.T., and a Ph.D. in Materials Engineering Science from Virginia Tech. He was awarded an Honorary DSc from the State University of New York and is a fellow of the National Academy of Science. He holds numerous other distinctions for his teaching, research, and service at the University of Florida. Dr. Brennan is currently the Chairman and Chief Technology Officer of Sharklet Technologies, Inc. a startup that he co-founded using results from his research at the UF that was funded by the Office of Naval Research. Dr. Brennan has mentored 33 Ph.D. students, 33 who have graduated, over 40 MS students, over 100 undergraduate students, numerous post-doctoral fellows, and many high school students. His last two Ph.D. students are expected to graduate in 2020. Dr. Brennan and his group have published over 200 articles, proceedings, and abstracts. He is inventor/co-inventor on over 100 US and International patents. Current research interests continue in the development of materials that can be used to "control" or more reasonably direct bioadhesion for specific functions. Dr. Brennan is also enjoying his retirement with his wife Kathy in Gainesville, FL, and Ellijay, GA. They have three children, two grandchildren, and two Cavachons
This webinar was sponsored/hosted by the BioInterfaces SIG.