SFB/ISACB Joint Webinar
Start and End Times
12:00 PM UTC - 1:00 PM UTC

HOST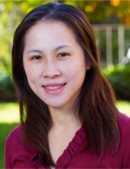 Ngan F. Huang
Stanford University
The Society For Biomaterials hosted a webinar on Friday, May 22, 2020. Drs. Vahid Serpooshan and Bauser-Heaton spoke about the collaborative projects, led by their bioengineering and clinical research teams, employing the principles of tissue engineering and 3D bioprinting technologies to address some of the most pressing challenges in the field of pediatric cardiology. In particular, they addressed using 3D bioprinted, patient-specific, cellular models to study congenital heart defects including pulmonary artery atresia and pulmonary vein stenosis. Dr. Nicolas L'Heureux also discussed the use of Cell-Assembled extracellular Matrix (CAM) to produce completely biological and human vascular grafts. Through the creation of yarn of CAM, a tissue-engineered vascular graft can be produced using a textile-based assembly strategy. These human textiles represent a new approach for the production of tissue-engineered constructs that combine string mechanical strength and the potential for complete tissue integration in the host.
SPEAKER BIOS:
Holly Bauser-Heaton, MD, PhD is an assistant professor at Emory University with clinical focus on pediatric interventional cardiology specializing in pulmonary vascular diseases at Children's Healthcare of Atlanta. As a basic scientist, she is interested in modeling various congenital heart lesions and primarily focuses on pulmonary vascular stenosis and endothelial dysfunction. In a joint effort with the Serpooshan lab, her lab explores cellular mechanisms of pulmonary vascular disease in an in vitro, flow mediated, 3D bioprinted model. Dr. Bauser-Heaton believes research is best done with excellent collaboration.
Nicolas L'Heureux, PhD holds a Bachelor's degree in Biochemistry, a Master's degree in Immunology and Microbiology, and a PhD in Molecular and Cell Biology from the Laval University in Quebec City, Canada. He completed his training as a post-doctoral fellow of the American Heart Association at the Bioengineering Department at University of California, San Diego. In 2000, he co-founded Cytograft Tissue Engineering, Inc. (San Francisco) where he held the position of Chief Scientific Officer for 15 years.  He joined the INSERM (French Institute of Health and Medical Research) in 2015 as a Research Director at the Laboratoire de Bioingénierie Tissulaire (BU1026), or BioTis, at the University of Bordeaux. Dr. L'Heureux has raised over 20 M$ in private funding and won seven NIH grants. He is the recipient of a chair from the Excellence Initiative of Université de Bordeaux (IdEx) as well as an ANR grant. He recently was awarded an ERC advanced grant.
Vahid Serpooshan, PhD did his BSc and MSc in Materials Science and Engineering at Sharif University (Tehran, Iran, 1998-2003) and his PhD in biomaterials and tissue engineering at McGill University (Montreal, Canada, 2007-2011). Following his PhD, Dr. Serpooshan worked for 7 years at Stanford University School of Medicine as Postdoctoral Fellow (Pediatric Cardiology) and Instructor (Stanford Cardiovascular Institute).  At Stanford, Dr. Serpooshan's training and research were mainly centered on developing a new generation of engineered cardiac patch device to repair damaged heart tissue following myocardial infarction (heart attack). In 2018, Dr. Vahid Serpooshan joined Emory University and Georgia Institute of Tech as an Assistant Professor of Biomedical Engineering and Pediatrics, where his multidisciplinary team is now working on a variety of 3D bioprinting-based tissue engineering and disease modeling projects.