Blood surrogate pioneer Anirban Sen Gupta says this project marks the most significant step to date in the quest to create artificial whole blood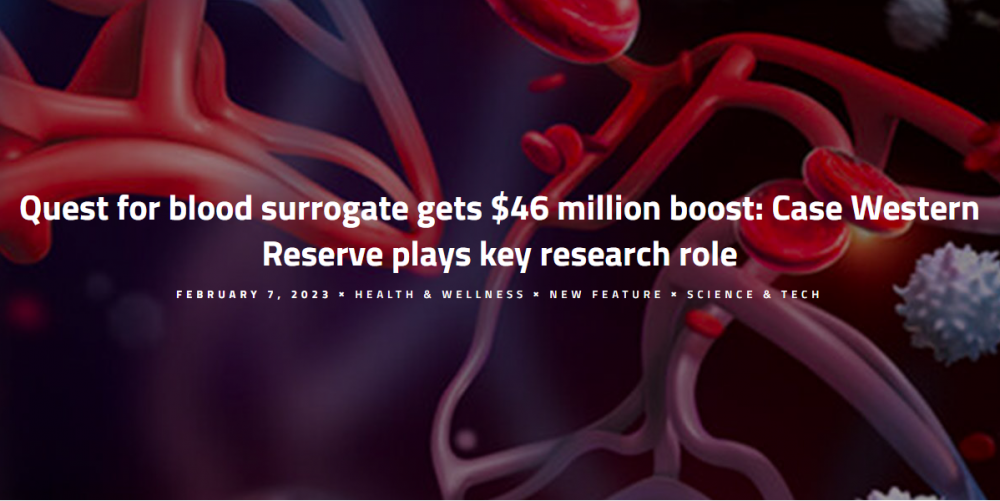 University of Maryland leads team of multiple universities and biotech companies; CWRU to evaluate and optimize synthetic blood products
Case Western Reserve University will play a primary role in a new $46.4 million federally funded project to develop a freeze-dried blood substitute that, if successful, has the potential to save thousands of wounded soldiers' lives—and civilian lives, as well.
The Defense Advanced Research Projects Agency (DARPA) is funding the four-year effort, which is being led by the University of Maryland School of Medicine and involves multiple academic institutions and industry partners.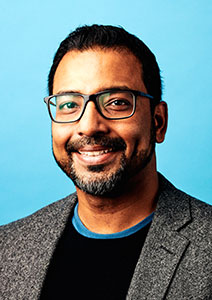 Anirban Sen Gupta
The project marks the most significant step to date in the quest to create artificial whole blood, said blood surrogate pioneer Anirban Sen Gupta, the Leonard Case Jr. Professor of Engineering at the Case School of Engineering and lead investigator of the CWRU team on the DARPA-funded project. 
"That's why this is so exciting—this could be the culmination of a century of efforts by human beings to create a substitute for whole blood," Sen Gupta said. "This is a historic effort and one that scientists in our field have been talking about for a long time. We needed something visionary like this DARPA endeavor to really make it come together."
The Case Western Reserve team will analyze how well the three blood-surrogate components—materials mimicking platelets, red blood cells and plasma—effectively work when combined.
Answering a big question
"The big question we'll be answering over the next four years is: Can we come up with a surrogate product that works like whole blood?" Sen Gupta said.
The rest of CWRU's team includes Umut Gurkan, professor of mechanical and aerospace engineering; Harihara Baskaran, professor and chair of chemical engineering; and Shannon French, director of the Inamori International Center for Ethics and Excellence. French will oversee the ethical, legal and social implications of the research. Sen Gupta said he will also be collaborating with Pedram Mohseni, chair of electrical engineering and computer science. 
Harihara Baskaran, Umut Gurkan, Allan Doctor and Anirban Sen Gupta.
Sen Gupta said there are several critical requirements for such a synthetic blood product to be successful. The components must be biosynthetic and donor-independent; must enable production at large scale, amenable to freeze-drying so it can be easily transported and stored; and should mimic the biological functions of red blood cells, platelets and plasma very closely.
Three synthetic components
Each of the three components will come from a different source: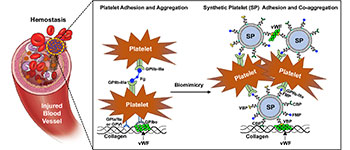 A schematic of how SynthoPlate mimics platelet mechanisms to stop bleeding.
Finally, the blood-surrogate product will be evaluated in the laboratories of Matthew Neal, Philip Spinella and Susan Shea at the Trauma and Transfusion Medicine Research Center at the University of Pittsburgh.
The combination of the three freeze-dried components has never been tested for transfusion effect, Sen Gupta said.
Also involved in the research, according to DARPA: Charles River Laboratories, Latham Biopharm Group, Ohio State University, Pumas-AI Inc., Southwest Research Institute and University of California-San Diego.
Civilian benefits, and global health equity
Sen Gupta said a whole-blood substitute could have benefits beyond the military.
The technology could provide new blood-transfusion options for smaller hospitals without sufficient blood banks and allow ambulances and helicopters to carry such a product for transfusions outside of hospitals or en route to a hospital, he said.
Further, these blood products could address a global health care problem, as not every country has the same access to blood products now for transfusions.
"A lot of people bleed out and die because they can't get timely and adequate blood transfusions," Sen Gupta said. "This could change that."
For more information, contact Mike Scott at mike.scott@case.edu.
To view the original press release, please click here.