C. William Hall, M.D. Biography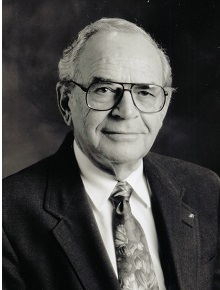 C. William Hall, M.D. was internationally recognized as a leader and pioneer in biomaterials and artificial organs research. An Oklahoma native, Hall served in the U.S. Army Medical Corps during World War II. Following his military service, he attended Kansas University and earned bachelor's and master's degrees, and a doctorate in medicine in 1956.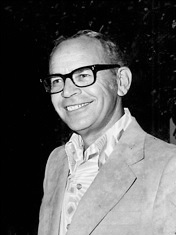 While in residence as a cardiovascular surgeon at Kansas University Medical Center, he participated in the first open heart surgery performed there, sparking a lifelong interest in innovative medicine.
Early in his biomaterials and bioengineering research career, Dr. Hall was selected to direct the fledgling artificial heart program at Baylor College of Medicine in Houston, Texas. He was the first project officer for the National Heart Institute's artificial heart program, and was instrumental in establishing the research contract procedures for the National Heart, Lung, and Blood Institute.
At Baylor, Dr. Hall, with Dr. Michael DeBekey and other colleagues, developed the first implantable blood pump to be used clinically. This first artificial heart is on permanent display at the Museum of Natural History at the Smithsonian Institution in Washington, D.C. Hall later developed and received patents for several other artificial heart designs, as well as a bioadhering dressing now widely used as artificial skin on victims of severe burns. He also introduced into medicine a velour material that is widely used as a tissue-bonding interface and as a vascular prosthesis. He is also known as the developer of a permanently attached artificial limb.
He was recruited by Southwest Research Institute in 1968 to manage artificial organs research in the Department of Bioengineering. In 1970, he was appointed Institute Physician and Director of the Department of Bioengineering. Dr. Hall's desire to pursue his real love, research, led to his appointment as Institute Medical Scientist in 1975. One of his research programs was a cooperative industry project to develop a chemical solution to extend the out-of-body longevity of the human heart and other donor organs, thus enlarging the potential pool of replacement organs for transplant candidates. He was also the Associate Director of the newly established Center for the Enhancement of the Biology/Biomaterials Interface at The University of Texas Health Science Center at San Antonio, whose creation was the culmination of his lifelong dream-finally, a center of excellence dedicated exclusively to biomaterials.
Dr. Hall authored more than 100 published papers and belonged to more than 20 professional societies. He was co-founder and past president of the Academy of Surgical Research and the founding president of the Society For Biomaterials. In his career, he received awards and honorary degrees too numerous to list here. He was especially proud in 1965 to be named professor honoris causa of the Universidad Catolica de Oxotina Argentina, a nation that presented him with the Medalla de Oro (Gold Medal) for his contributions to cardiovascular surgery. In 1985, Rose-Hulman Institute of Technology, Terre Haute Indiana, bestowed the honorary degree of Doctor of Engineering for his achievements in biomedical engineering. In 1987, the Mind Science Foundation of San Antonio honored him as Imaganeer of the Year and cited him for his "leadership and creative visionary qualities."
He served on the editorial boards of the Journal of Biomedical Materials Research, which in 1985 dedicated an entire issue to his contributions to biomaterials, and the Journal of Investigative Surgery, which paid tribute to him in its inaugural edition in 1988.
Coincidentally, the two professional societies Bill helped create were meeting jointly in Chicago during his surgery and death. During the meeting, Dr. Hall was to receive the Academy of Surgical Research's Markowitz Award, given by his peers in the Academy in recognition of his outstanding achievements in research. It was accepted on his behalf by a long-term colleague.
Bill's accomplishments are listed in American Men and Women of Science, the Dictionary of International Biography, the Directory of Medical Specialists, Personalities of the South, Who's Who in the World, Who's Who in America, Who's Who in Science, New York Academy of Sciences, and numerous other prestigious publications.
Throughout his life, Dr. Hall was an enthusiastic observer of the landscapes and the people of the Texas hill country where he lived. He was a horseman, licensed pilot, and avid outdoorsman, who flew, hunted, boated, and photographed often in the hill country and throughout the U.S. He was founding president of the Cross Mountain Ranch Homeowners Association, formerly served on the board of directors of the Leon Springs Volunteer Fire Department, and was a past president of the San Antonio Chapter of the American Heart Association. He was also a 32nd-degree Mason, and a member of Alzafar Shrine Temple.